Interactive I-Cloze - Blue Sky - ES003
Reading in the Content Area for Paper or Devices
For Paper and/or iPad, iPod, Kindle, Smart Boards, Laptops, Computers, Projectors,
Chromebook®, SMART® Boards, Promethean®, Netbooks or Windows tablets
These are printable Adobe Acrobat .pdf files.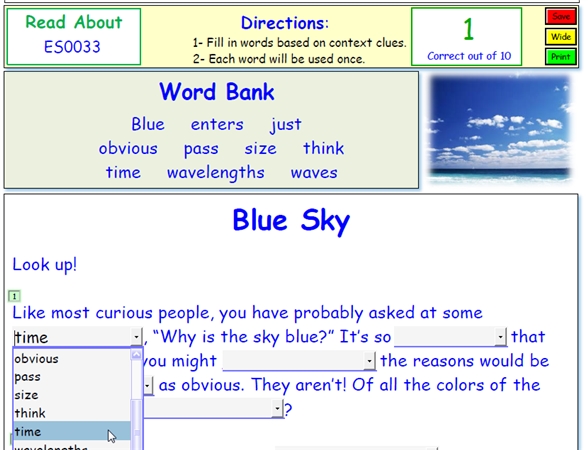 The I-CLOZE interactive files are self correcting and may be used on paper, student devices or in a whole class setting with a computer / projector by a teacher.

- You can SAVE your interactive worksheet with answers.
- A purchased interactive set is differentiated.
- Elementary as well as Middle School reading levels.
- For use on paper or student devices.
- "Save" "Wide" and "Print" buttons for use on devices.

or

Purchase the set below.
Available Separately or from the "Atmosphere ICE001" purchased package.
Click on a picture for an Elementary sample. Click on the link for more information


Atmosphere

Acid Rain

Blue Sky

Climate

Gravity


Greenhouse
Gases

Layers of
Atmosphere


Temperature of
Atmosphere

Natural Resources
and Pollution

Pollution
Sources

Types of
Pollution

Wind

12 individual lessons teaching the main topic
Same "Look and Feel" for ease of use.
Elementary and Middle School differentiated versions.
Self correcting versions - immediate feedback.
Elementary and Middle School answer keys.
Great as a starter.
Save your answers digitally.
Teach right from the document using a projector.
Using digital versions on a device, students can immediately tell if they are correct.
For printout on Paper or use with iPad, iPod, Kindle, Laptop, Chromebook®, SMART® board or other electronic devices.
Interactive I-Cloze - "Blue Sky - ES003
Reading in the Content Area for Paper or Devices
For Paper and/or iPad, iPod, Kindle, Smart Boards, Laptops, Computers, Projectors,
Chromebook®, SMART® Boards, Promethean®, Netbooks or Windows tablets